CUSTOM COMMERCIAL SIGNS AND INSTALLATION SERVICES!
CAR, TRUCK, SUV & VAN WRAPS IN PHOENIX & MESA

WESTERN SIGNS AND LIGHTING MESA 480-831-8600
If you're searching for "vehicle wraps", "vehicle wraps near me", "car wrapping near me", "vinyl car wrap near me" or "commercial vehicle wraps", Western Signs & Lighting can help! Western Signs & Lighting offers car wraps, truck wraps, cargo van wraps or commercial vehicle wrap installation services in Phoenix, Mesa or anywhere else in the Valley. Receive a free vehicle wrap estimate anywhere in the Phoenix Metropolitan area by give Western Signs & Lighting a call today at 480-831-8600.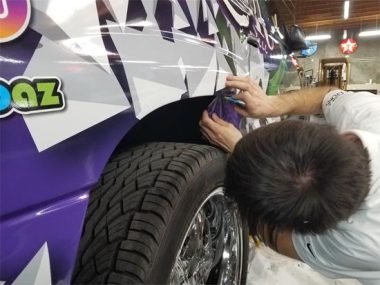 COMMERCIAL VEHICLE WRAP INSTALLATION SERVICES
WE ARE CAR, TRUCK & COMMERCIAL VEHICLE WRAP SPECIALISTS!
Western Signs & Lighting offers the following commercial vehicle wrap installations in Phoenix including; Car Vehicle Wraps, Truck Vehicle Wraps, Van Vehicle Wraps and Trailer Vehicle Wraps. Stop by our installation shop at 2452 W Birchwood Ave, Mesa, AZ 85202 to get your free estimate. Commercial vehicle wraps market your business all day, every day. Your vehicle can be seen by thousands of people all over the Valley. Basically your car, truck, or trailer is an open canvas for full color graphics to showcase your brand or cause, grabbing your customers' attention like never before. Television, radio and even print ads can end up running into hundreds of thousands of dollars. Getting your company vehicles wrapped will generate the most impressions at a fraction of the price, saving you money in the long run.
COMMERCIAL VEHICLE WRAP BENEFITS
THERE ARE MANY BENEFITS OF USING VEHICLE WRAPS TO ADVERTISE YOUR LOCAL BUSINESS IN THE PHOENIX VALLEY!
GRABBING ATTENTION

– Vehicle wraps can be made brightly colored to ensure your commercial vehicle stands out while on the road. Drivers do not pay a lot of attention to plain white commercial vehicles but they will notice a professionally designed vehicle wrap. Your potential customer's eyes won't be able to look away!

INCREASE YOUR AUDIENCE

– You can reach a ton of people with your advertising even if you only have 1 vehicle. With more than one vehicle, you could potentially reach up to 100,000 viewers per month. This increases the reach of your advertising. Studies show that businesses get more sales from their vehicle wraps than from their company websites.

ADVERTISING IS NON-AGGRESSIVE

– Unlike print ads or radio ads that can interrupt your reading, vehicle wraps don't disturb anything and grab attention. Your Potential customs will be able to easily spot your advertising without being distracted. People respond better to non-aggressive adverting and love seeing vehicle wraps out on the road.

GOES WHERE YOU GO

– Vehicle wraps help you get your business out in front of potential customers versus you waiting on them to see your newspaper or television advertisement. Advertise to your potential customers while you are already out on the road anyway.
LOW COST

– Compared to other advertising methods like billboards and TV ads that have reoccurring costs, vehicle wraps are a 1 time cost that easily pays for itself in ROI. With all of those savings you could afford to re-wrap your vehicle as often as you like.

ADVERTISE TO YOUR LOCAL MARKET

– Vehicle wrap advertising is perfect for local business because you are literally advertising to your local market. The potential customers in your local area are the people who will see your advertising the most.

PROTECT YOUR VEHICLE

– Vehicle wraps can also help protect your automobile from scratches, dings and other damage. Also, vehicle wraps can easily be removed without damaging your automobile's paint, keeping your vehicle in excellent condition and read for resale.

DISADVANTAGES OF VEHICLE WRAPS

– The only disadvantage of vehicle wraps is that you have to pay for them. Other than that, there aren't really too many bad things you can say about vehicle wraps. They help grab attention, increase your audience and goes where you go for a low cost!
HOW MUCH DOES
COMMERCIAL VEHICLE WRAP COST?
Cost factors of vehicle wrap are determined by the size of your vehicle, how detailed the wrap is and what type of wrap you choose. See below for a list of the average cost of vehicle wraps.
AVERAGE VEHICLE WRAP COST

– The average cost of commercial vehicle wrap in 2018 was $2,260

CARGO VAN WRAP COST

– The average cargo van wrap cost in 2018 was $2,062
SMALL VAN WRAP COST

– The average small van wrap cost in 2018 was $1,862

CAR WRAP COST

– The average car wrap cost in 2018 was $2,137
TRUCK WRAP COST

– The average truck wrap cost in 2018 was $2,750

SUV & MINI-VAN WRAP COST

– The average SUV wrap cost in 2018 was $2,375
VIEW OUR VEHICLE WRAP
& WRAP INSTALLATION GALLERY
LEARN HOW MUCH IT COSTS TO WRAP YOUR
COMMERCIAL VEHICLE IN PHOENIX OR MESA!
If you would like to inquire about the cost of vehicle wrap or would like to receive a free commercial vehicle wrap estimate in Phoenix, Mesa or anywhere else in the Valley, give Western Signs & Lighting a call today at 480-831-8600!